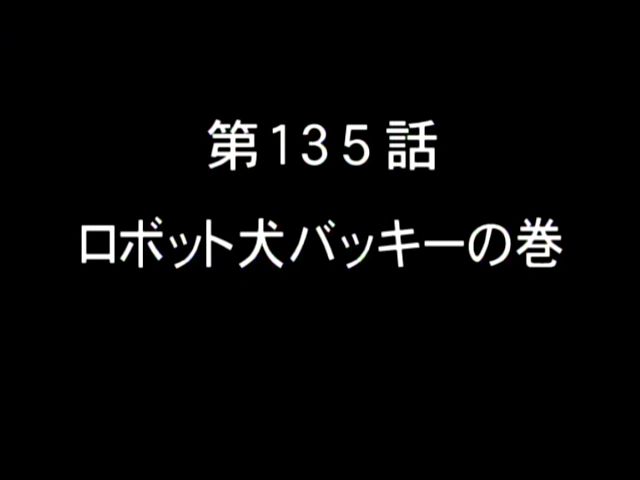 This episode features a few characters/actors from the 1st season.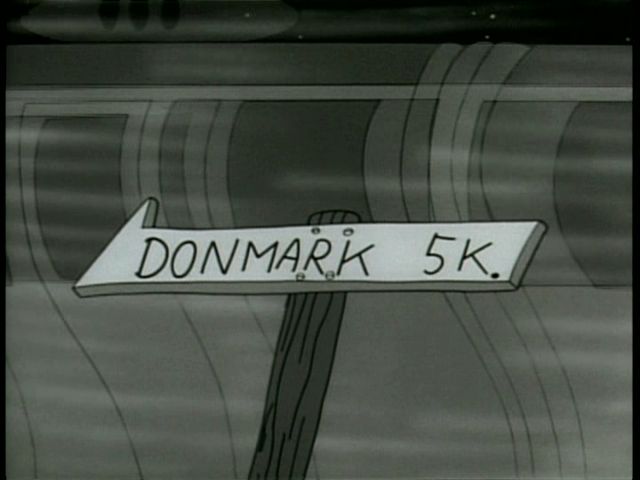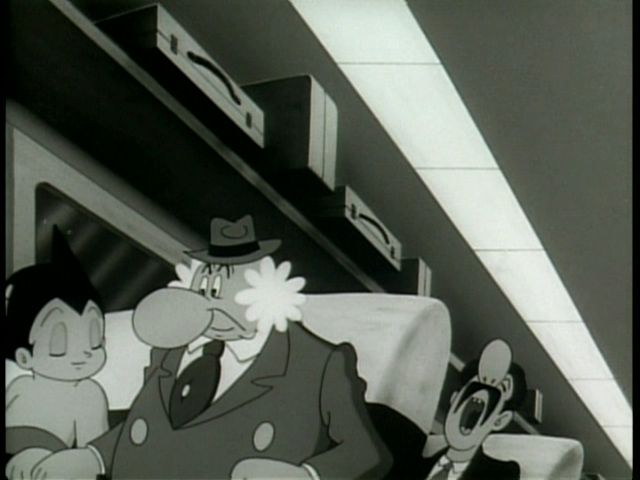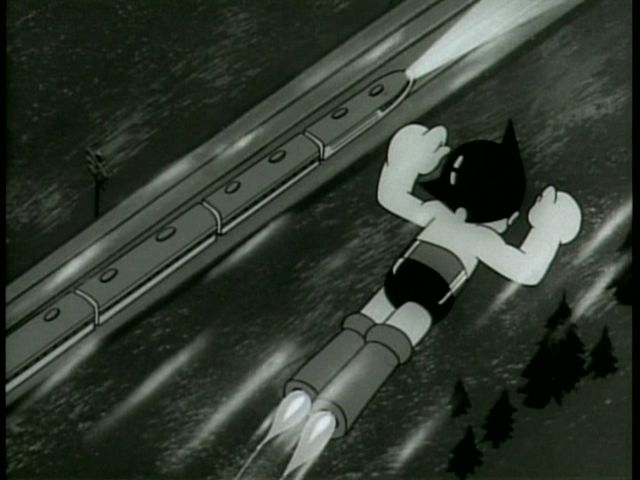 Upon learning of trouble on the train tacks ahead, Atom goes to see what is up.
Atom had to stop the train, lest it collide with a boulder, & some passengers experienced minor discomfort: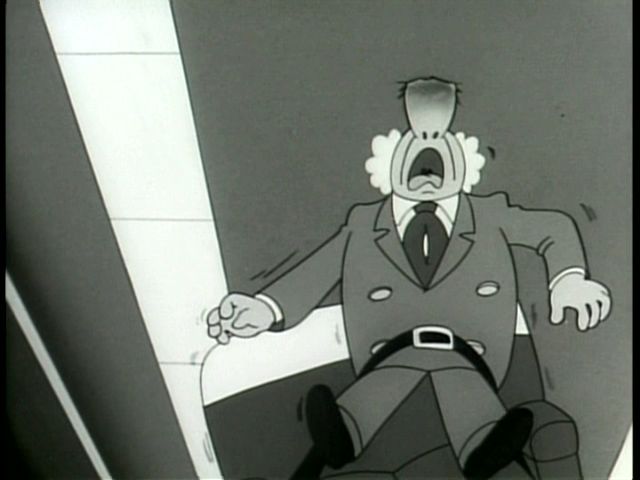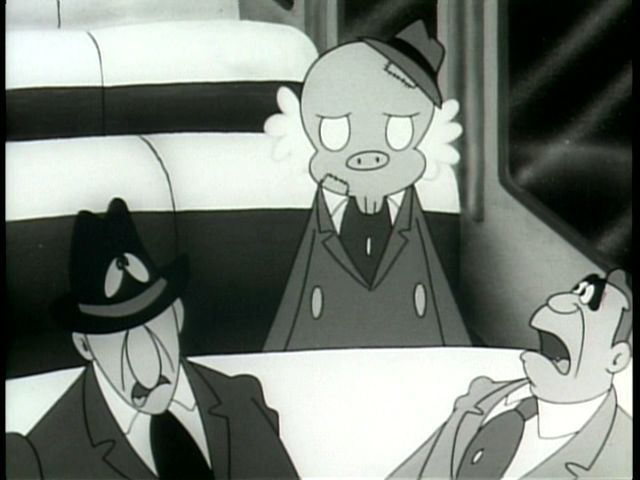 Upon falling from the ceiling, Ochanomizu bounced a few times (I have pics for a nice GIF).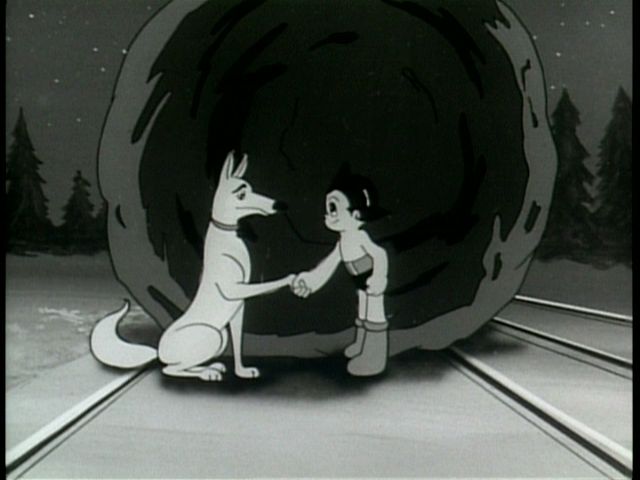 Upon reaching the scene earlier (sorry, I had to choose which images to include, & those were not among them), Atom met a robot dog that was attempting to stop the train. Now that it has stopped, the formal introduction.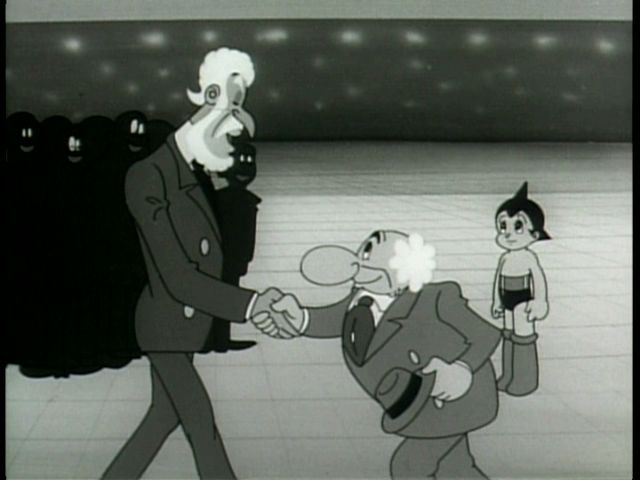 This guy debuted in #80,
Humanoid Bill
(71,
Mighty Minute
) as Guiness-hakase (Prof. Jingo), the creator of the title character. Ochanomizu & Atom have come to Denmark to attend a robot competition, & ドンマーク科学長官ボルドー / Donmāku kagaku Chōkan Borudō / Direktor Bordeaux of Donmark Science greets them.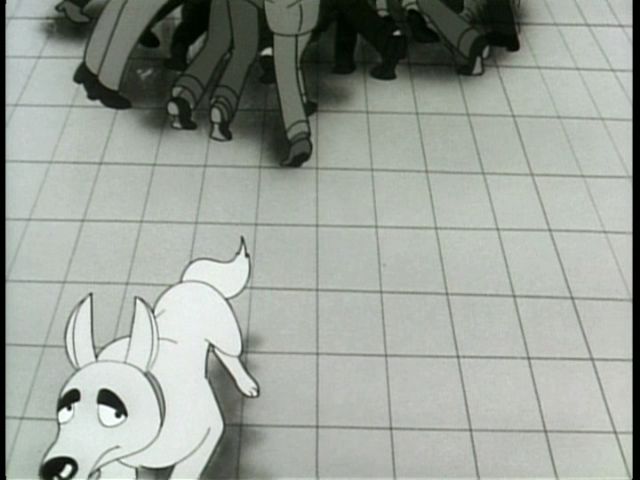 Ochanomiz & Atom had been the center of attention, until the crowd saw Bacy; but he ran away from the crowd.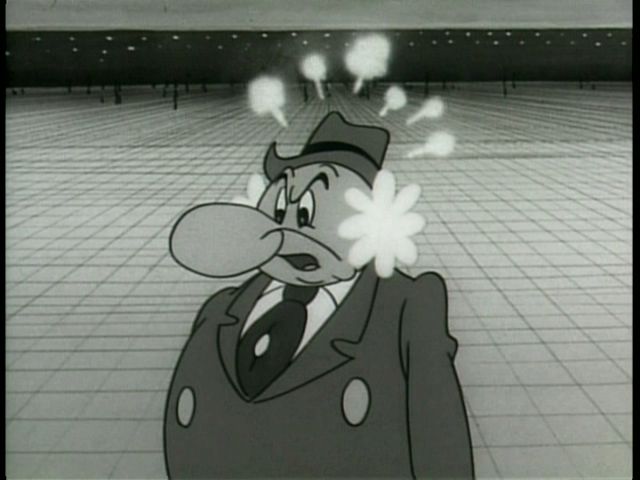 Here, Ochanomizu is steamed at the reporters for turning from him, to the robot dog.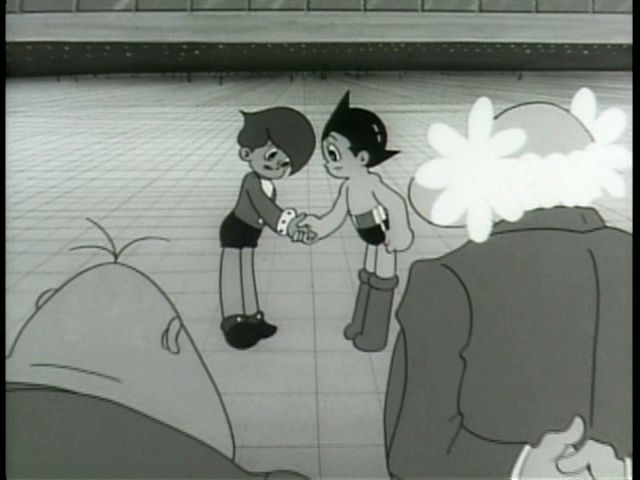 In the foreground is the Pharmacist from
42, Yellow Horse
; while the little boy is the reluctant throttle lever made into Col. Vega's (Capt. Olga's) replacement son Tom (Tommy), of #46,
Robot Spaceship
(
Phantom Space Ship
). All of these guest actors have appeared in at least 1 other episode. The pharmacist is now ドンマーク銀行頭取・バンク / Donmāku ginkō tōdori banku / Bank president "Bank" of the Donmark Bank. Tom (Tommy) portrays バンクの息子・タフイ / Banku no musuko tafui /Tafui, Bank's son. BTW, thanks to Strangewings for the names!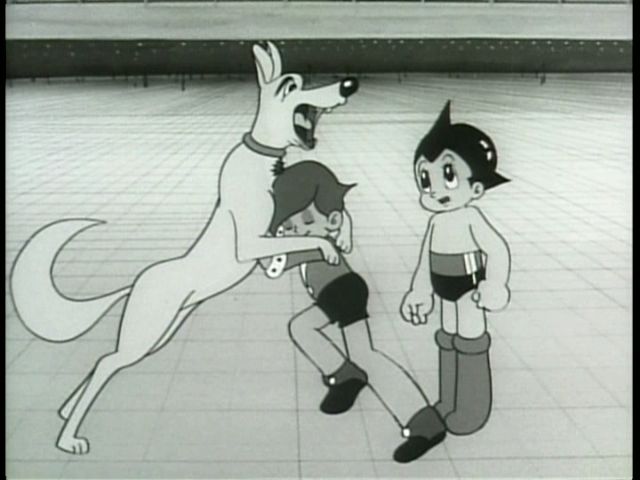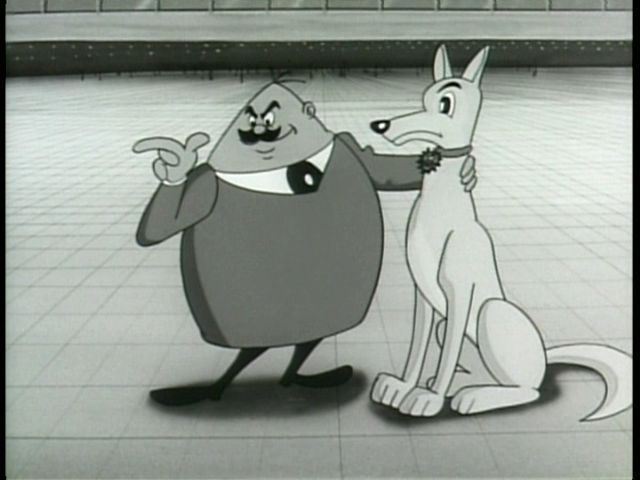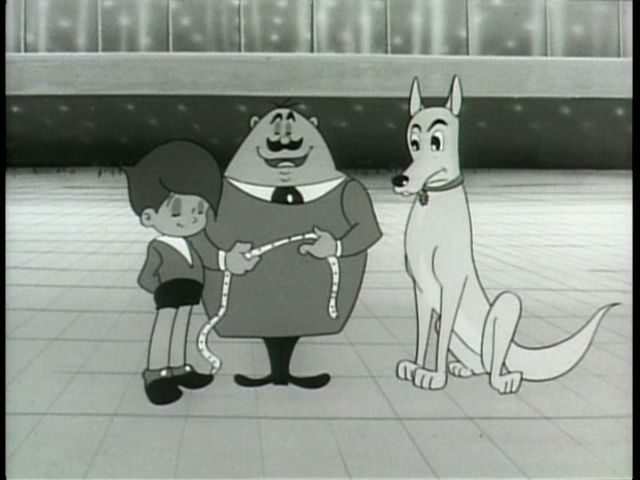 Bank has taken this ticker tape from Backy's ear.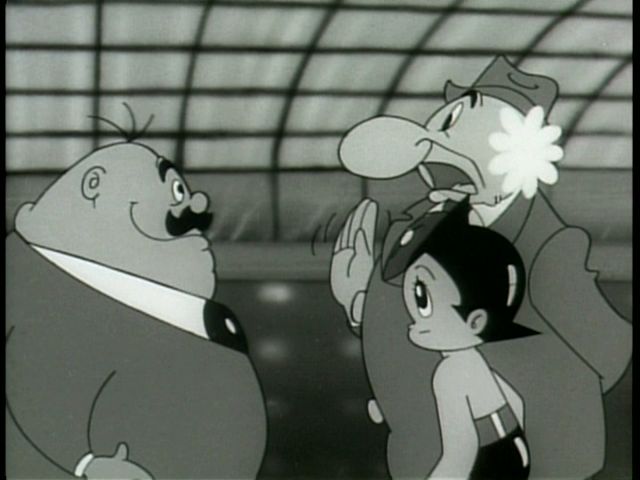 It appears that Ochanomizu is a bit disturbed by the fact that Bank owns the robot dog that saved the train.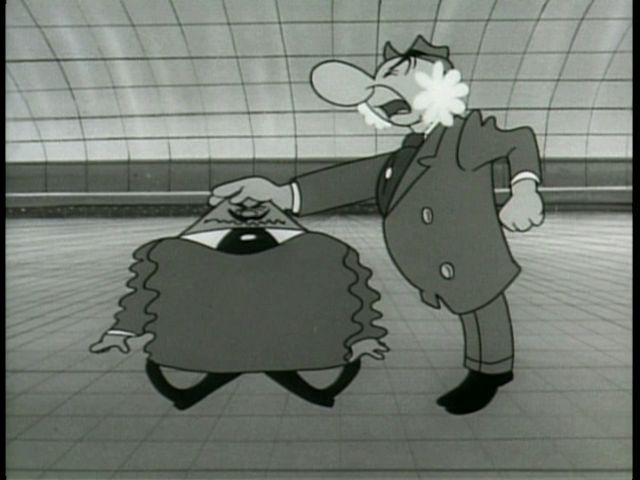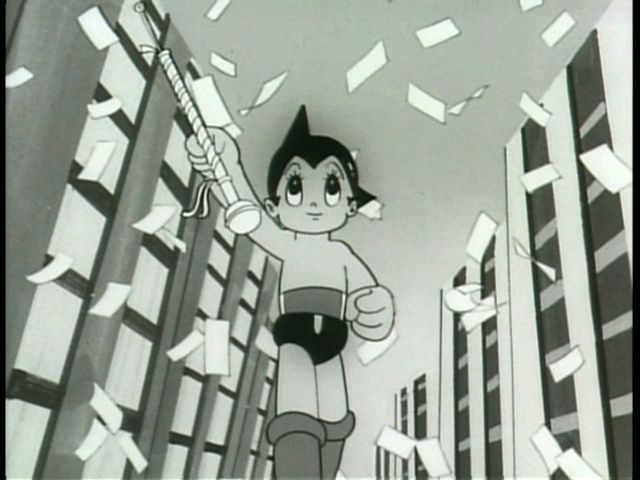 I have plenty of frames for an animated GIF of this.
As Atom leads the parade past this alley, he sees something the distracts him.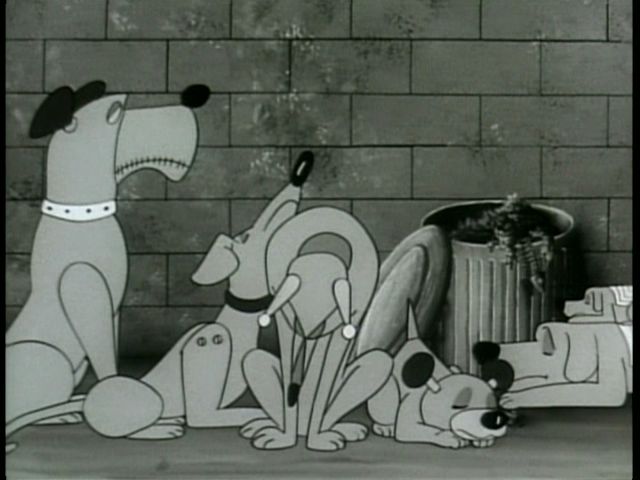 Stray robot dogs, hiding from the robot dog catcher.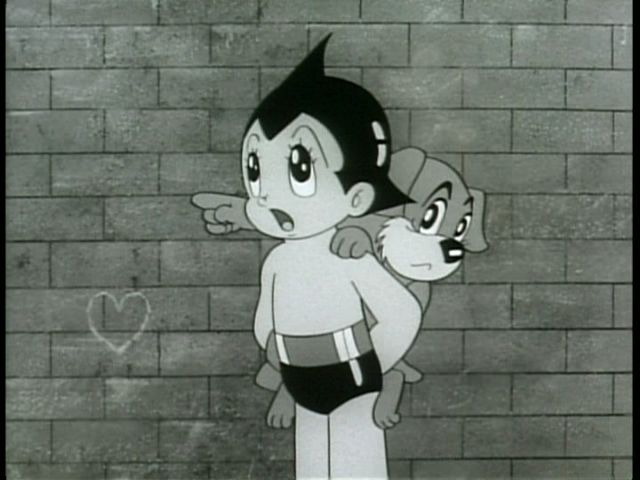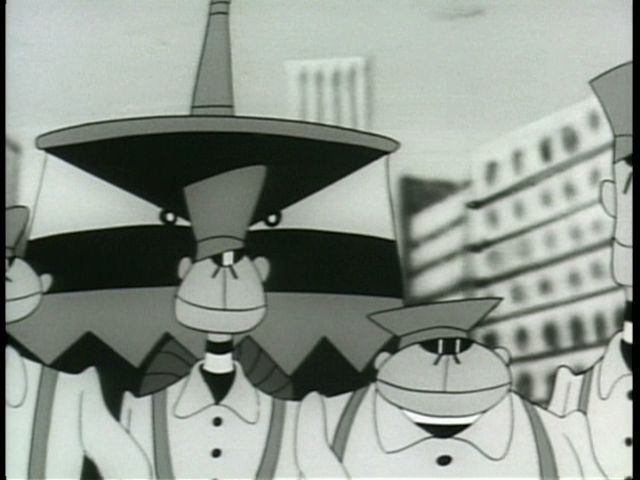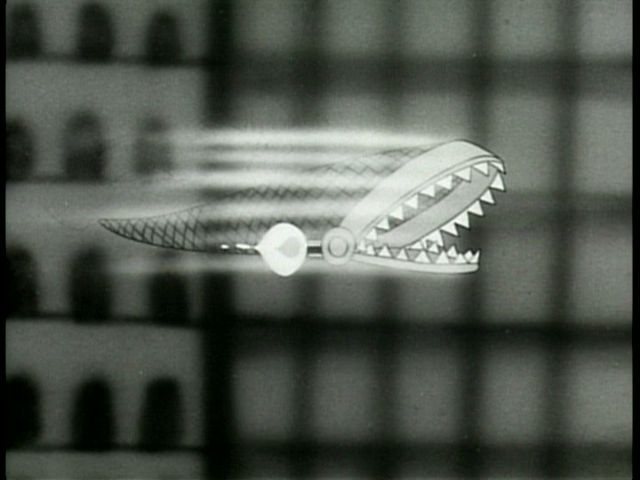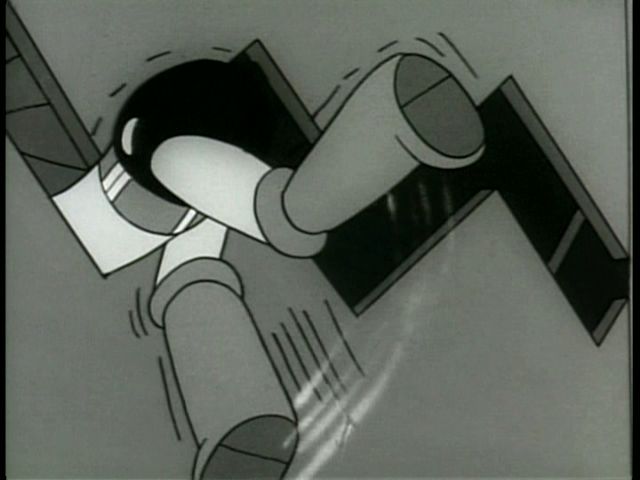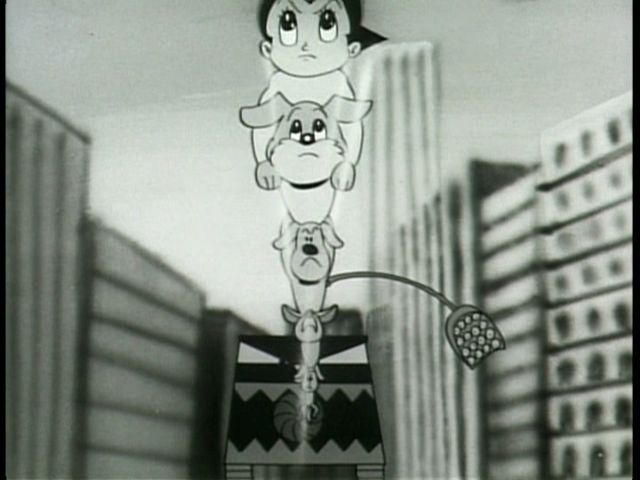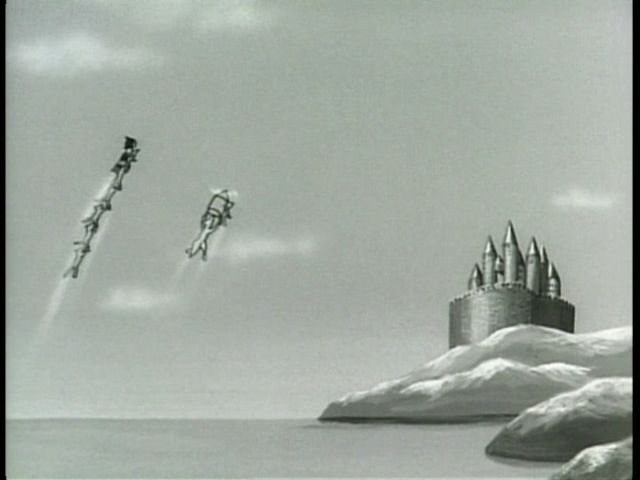 Atom takes the dogs he rescued from the dog catcher to this remote castle, not knowing who lives there.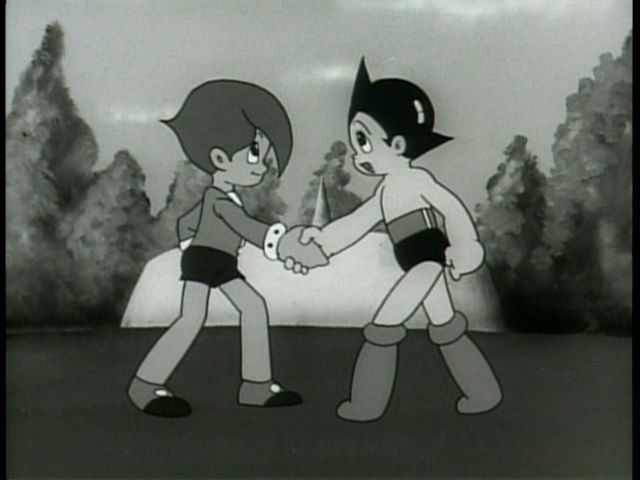 hmy: He did not expect that Tafui would live there, but he is glad to see him, again.
He tells him about rescuing the strays: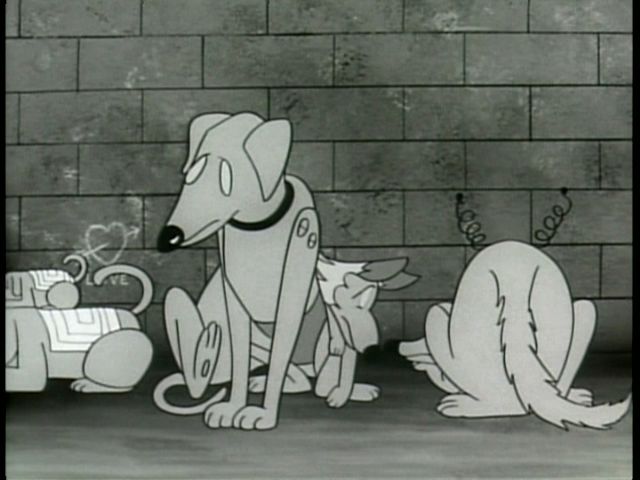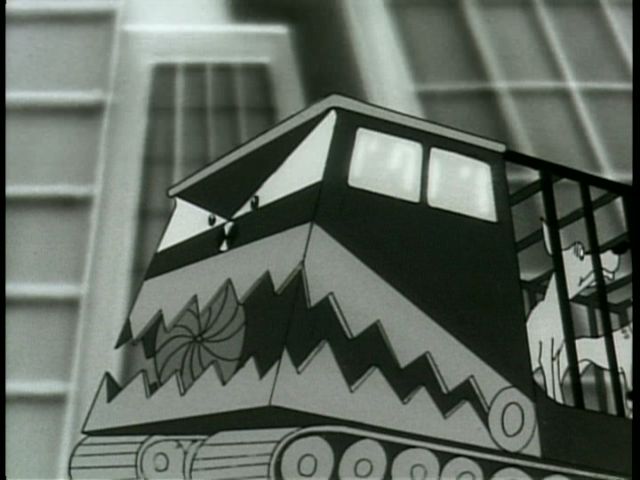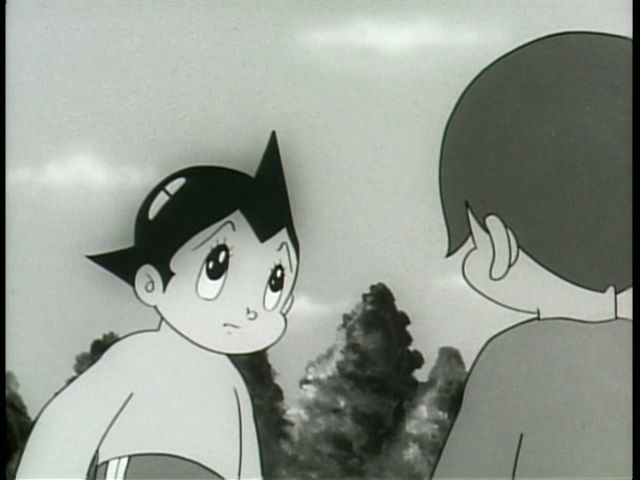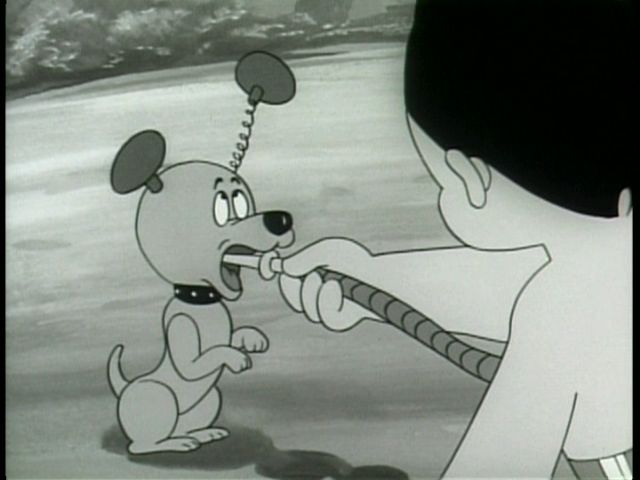 Atom refuels all of them, & I omit all but this image (sorry).
Later, at the hotel: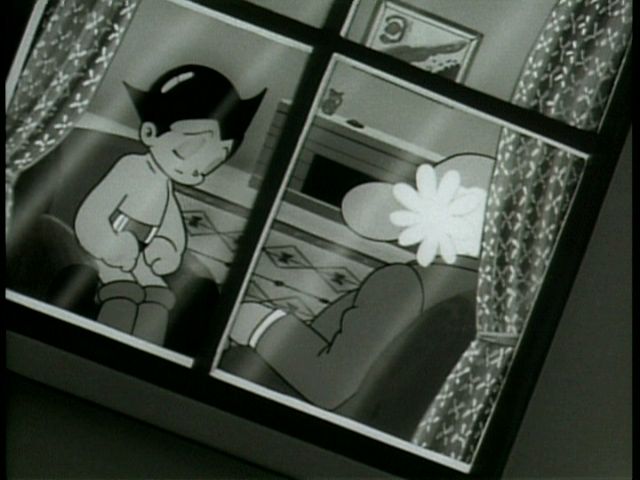 Ochanomizu shares his suspicions with Atom.
The next day, a building in flames & a trapped boy: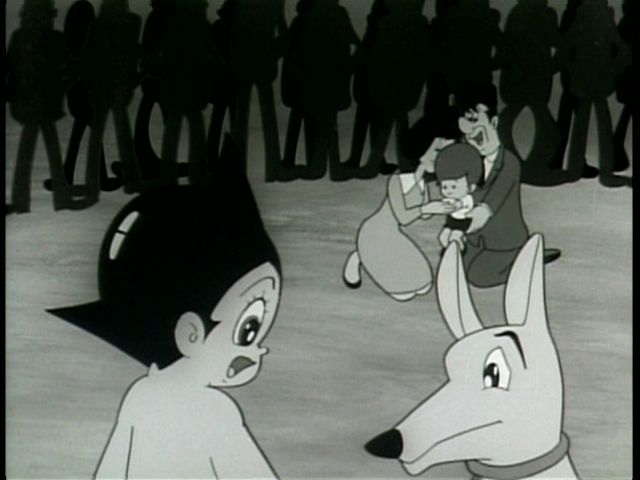 Backy is already there!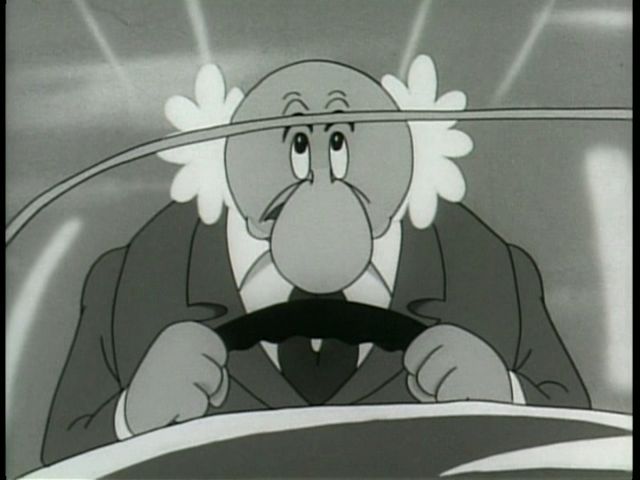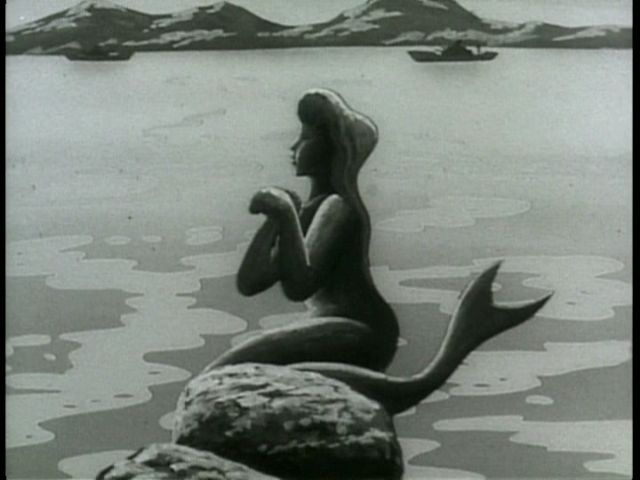 The next day, a little girl falls into the water, & just as Atom goes to save her: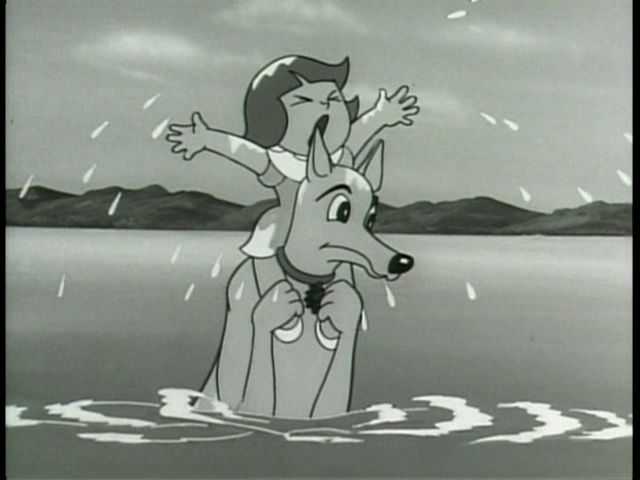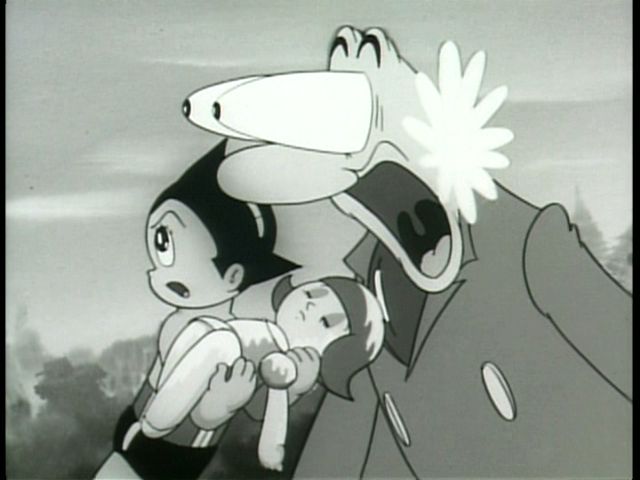 Too much of a coincidence, if you ask me!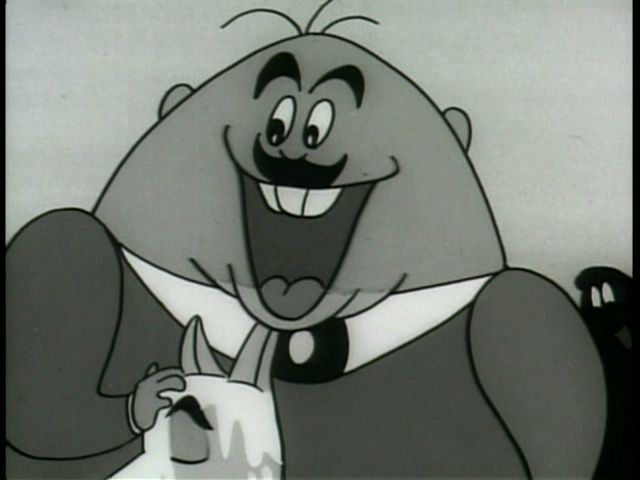 Bank sees no problem with it. It could be, he hopes to win the contest.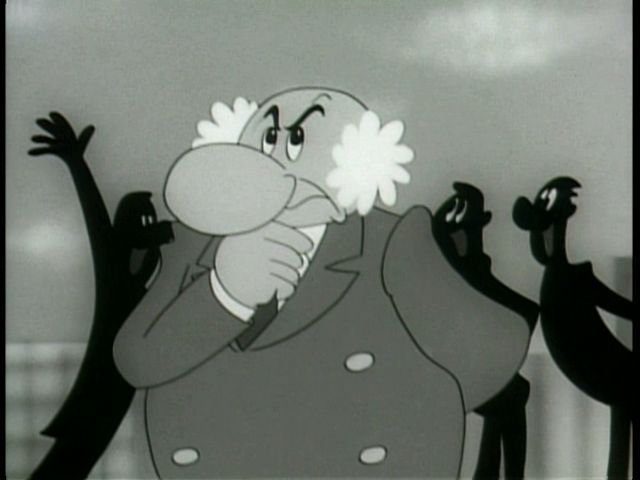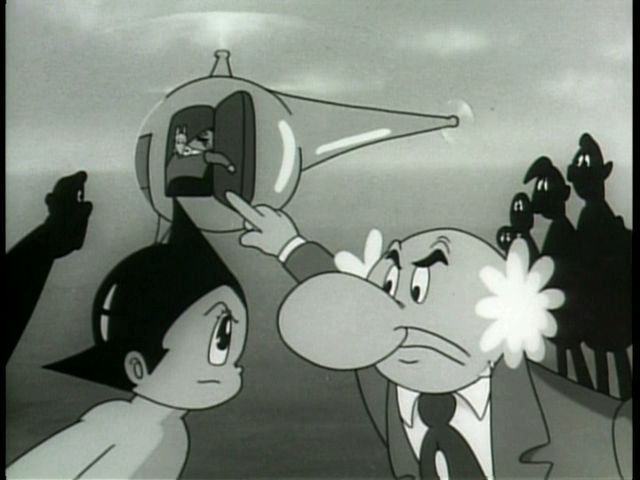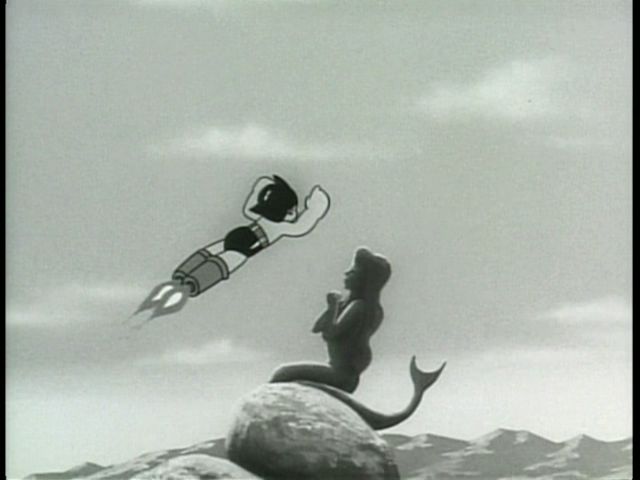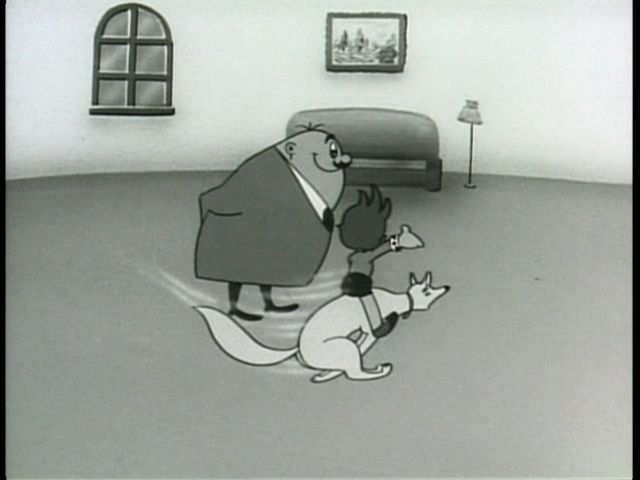 Another cute GIF.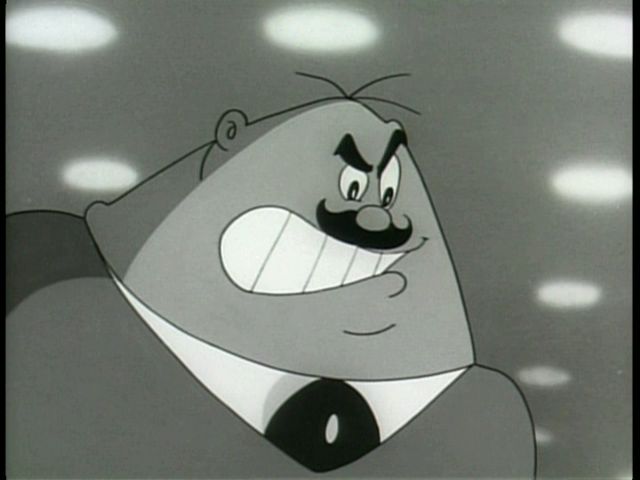 Atom had come to investigate, & Bank had captured him.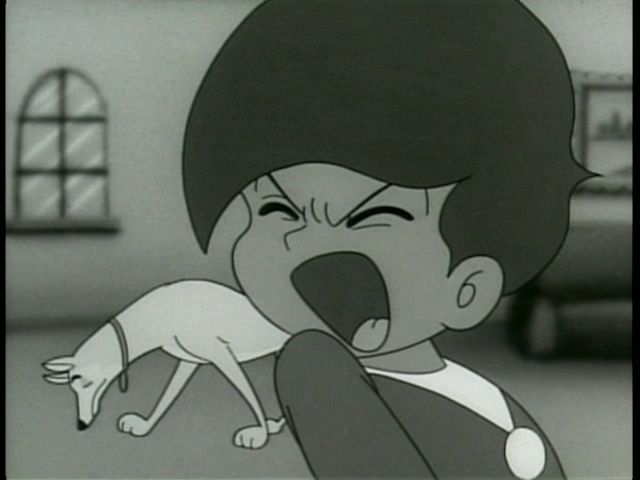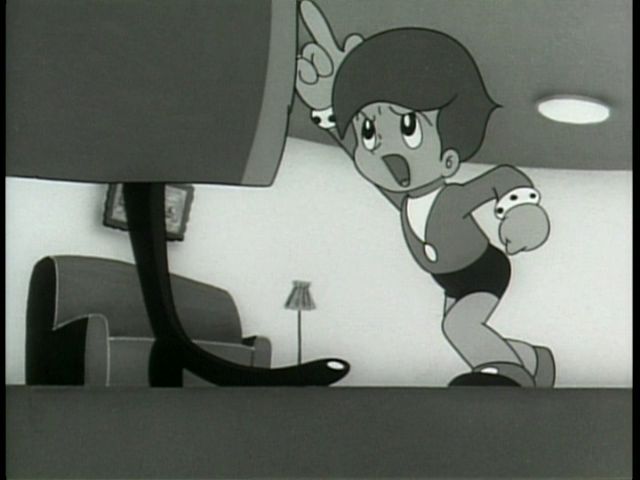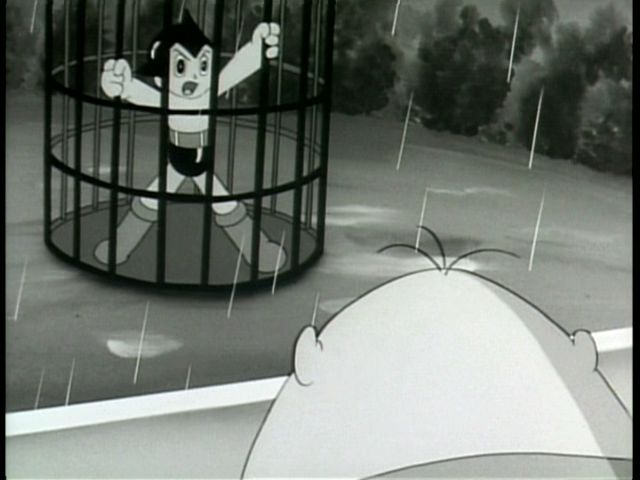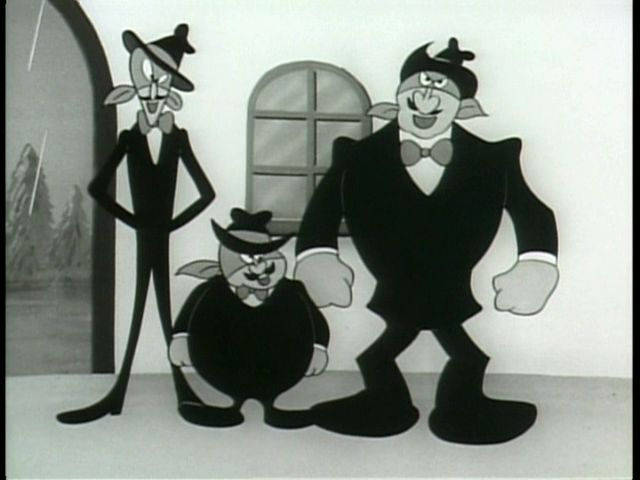 These henchmen originated in #58,
Thirteen Mysterious Statues of God
(42,
The Island of Mystery
).