hi guys! i'm finally back! i think this thread would be nice to discuss and share everyone's astroboy-related finds that are rare or really valuable. i would like to start off with this vinyl astroboy that i got a few months back. i didnt really thought that it was that precious.
*click on thumbnail to see the full size version*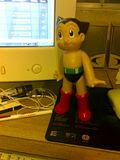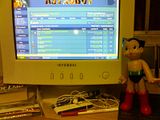 but i do have this nagging idea in my mind that i better check what's the info for this toy. so off i went to google and ebay looking for similar items. and guess what: it turned out that the toy was made by Billiken, one of the famous toy makers in Japan.

*click on thumbnail to see the full size version*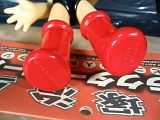 *a link to billiken's site. on the right-side bar you will see a link in english "ASTRO BOY", click on the link directly below it. that should show the same collectible i have now. the "ASTRO BOY" figure is more expensive though

http://www.billiken-shokai.co.jp/billiken_files/toy/toy_character/toy_flame_chara.html
this particular figure is already out of production, and is already considered vintage by vinyl toy standards (10 years is vintage for vinyls). the original price is not actually steep but with the limited number on the production of this toy, this bumps up the price even more. the best part is it was made by billiken!
now im very glad (and ecstatic!) that the cash i paid for this collectible was worth every cent