Table of Contents
North #2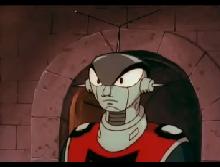 North #2 (Molnar in the English version) is a robot whom Pluto challenges in the 1980s series. He also received a cameo in the 2003 series.
North #2 is shown to be Scottish, alongside Brando, who is Turkish, Hercules, who is Greek, Gerhardt, who is German, and Epsilon, who is Australian.
Appearances
1980s series
In the 1980s series, he is a robot who resides in Scotland. He has 6 fearsome weapons located in his body, as well as wheels and a rocket, however has no legs.
2003 series
North #2 received a cameo in the 2003 series as a robot owned by Hamegg. His design is much more beetle-like than before, and was unnamed.