Table of Contents
Uran
Uran (also known as Astro Girl, Sarah and Zoran) is Astro's younger sister. She has appeared in all the Astro Boy series to date, with the exception of Little Astro Boy. She also didn't appear in the 2009 feature film. She is portrayed as a typical small girl, being cheeky, mischievous and can even be downright annoying at times. She cares for, yet can be often jealous of, her brother, as exemplified during an episode of the 2003 series where she was tired of living in Astro's shadow and wanted to do something heroic herself.
Appearances
Original manga
Uran was first introduced in the original manga.

1960s series
Uran (known as "Astro Girl" in the English dub) is presented as a birthday present to Astro, who rejoices and claims that he has always wanted a sister. She proves to be a handful though, teaching Astro what it actually means to be an older brother.

1980s series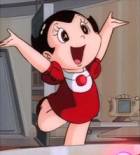 Uran was built by Dr. Ochanomizu in the episode Uran the Tomboy as a gift to Astro in the 1980s series. She is the third robot addition to Astro's family, the first two being his parents. Uran is an extremely mischievous little girl who constantly lands her older brother in trouble. While lacking Astro's weaponry and propulsion systems, she is extremely powerful (50,000 horsepower, which is half of Astro's horsepower), regularly accompanying Astro on various missions (or attempting to, at the very least). Like Astro, she is fully capable of experiencing human emotions. During the episode Uran's Twin Uran was tired of being girlish, and she wanted to have an identical copy of herself to do her tasks for her (with consequences), and in Uran's Quest, she went on a "quest" to find God, which eventually led her to allow a childrens' theme park computer to go insane. She eventually got fed up with living in Astro's shadow and even challenged Pluto. However, she didn't damage him one bit and instead got herself held hostage.
2003 series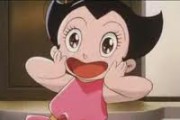 Uran (known as "Zoran" in the English dub) reappeared in the 2003 series. She was introduced in the episode Little Sister, Big Trouble. Uran was created by Dr. Ochanomizu in order to give Astro a family (or at least part of it) in his plan to make Astro more human-like. When Astro first sees her, she is pulling Ochanomizu's nose and refusing to let go. Ochanomizu gave Uran one power: the ability to communicate with animals (the purpose of this isn't made clear). This allows her to talk to and befriend an injured bird she found (named Houdini), and instantly gets into mischief. However, she manages to almost save a professor yet gets trapped in a giant robot bird. Uran is pretty much shown to be how she always looked with a different dress in order to appeal to more western audiences.
Trivia
In the Japanese version of the 1960s series, Uran had three subsequent voice actresses throughout the run of the show. Her first voice actress was Yoko Mizugaki, her second was Reiko Mutoh, and her third was Kazuko Yoshikawa.
In the English version of the 1960s series, she is voiced by Billie Lou Watt.
In the 1980s series, she is voiced by Masako Sugaya in the Japanese version and by Becke Wilenski in the English version.
In the 2003 series, she is voiced by Miki Maruyama in the Japanese version and by Susan Blu in the English version.