Table of Contents
Astro Boy vs. Atlas
This is the second episode in the 80's series and was first broadcast in Japan on October 8, 1980.
I am struggling to make my father happy, but nothing turns out as I would like. Beside that, Hamegg would want me to be famous in his circus, and this strangely familiar robot called Atlas is causing troubles.
Plot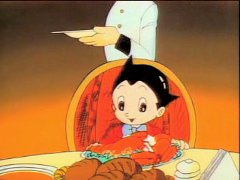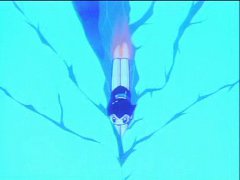 Doctor Tenma and Tobio are aboard a ship toward America. Failing to master his powers, Tobio has caused a lot of damages such as breaking a tap and ripping away his father's suit. As a result, Tenma forbids him to go to the dinner with him, but changes his mind at the request of a convive who wants to meet his son. However when it is noted that Tobio is a robot, people all around the dinning room are upset. Following another goof up by Tobio, Tenma expels him, refusing to acknowledge him as his son anymore and calls him a robot. While outside, Tobio is approached by a man called Hamegg who comforts him. He is the ringmaster of a circus and wants Tobio to be his new star, and proposes him to sign a contract that basically establishes him as Tobio's owner. Not understanding the implications, he signs the contract.
During the same time, Skunk instructs Atlas to attack a transport vehicle to rob its content. Not understanding the exact purpose of what is expected from him, Atlas destroys the vehicle as well as its content, bringing upon himself the wrath of Skunk who explains to him what money is. Giving him a second chance, Skunk asks him to rob a market. Atlas executes himself, vandalizing the building using the same powers as Tobio previously used, and ultimately robbing the counter receipts; Skunk is furious. He then sees Livian who washes him, and tells her he has disappointed Skunk who he calls his father. While discussing with Walpur Guiss, Skunk tells him that Atlas is stupid. Guiss answers that Atlas can do things that other robots can't do thanks to the Omega Factor: be human-like and commit evil deeds.
Meeting in secret, Livian tells Atlas that he mustn't be evil and should protect those weaker than himself. Skunk surprises them and enters into a rage, then brings Atlas with him for his next plot, which is to cause icebergs to sink a ship and have Atlas recover the gold transported by the ship. Tobio, who is aboard the ship, folds the plan by destroying the icebergs using his powers. He meets Atlas, they both realize that they feel they already met each other in the past without knowing how, then fight. Tobio is drained out of energy and falls unconscious at Atlas' feet. About to destroy him, Atlas remembers what Livian told him, finally spares Tobio and brings him to the ship, promising to kill him next time. There Tobio is found by Hamegg who put him into a box. Doctor Tenma calls for him, but Tobio can't answer and loses consciousness as a result of his batteries drained out of energy.
At this moment, Livian accidentally destroys a statue at Guiss' castle. As a punishment he dismantles her. When Atlas finds out, he enters into a rage and rebels against his master. After a hot pursuit, Atlas is badly damaged and Walpur Guiss thrown into a cliff aboard his vehicle. Witnessing the scene, Skunk flees without being noticed, while Atlas retrieves Livian's remains, his fate uncertain.
Trivia
Differences between languages
Episodes 1 and 2 have been heavily edited in non-Japanese versions. They have been mixed into a single episode that completely bypasses the story of young Atlas. This caused some scenario inconsistencies in the fifth episode Atlas Lives Again, where flashbacks as well as the title reference a non-existent story. The relation between Skunk and Atlas is also left unexplained. In non-Japanese versions, the origin of the icebergs is unexplained, and are supposedly a natural occurrence.
In the English version, Astro's first malfunction is left unexplained, while in the French and Canadian English versions it is explicatively stated that it may have been caused by the electric shock from the wires. In the French and Canadian English versions, Doctor Tenma is entirely put outside of the scenario after being sent to the hospital; he explicatively mentions that he will remain a long time in the hospital and that he has arranged a trip for Tobio.