Table of Contents
Save the Classmate
This is the fourth episode in the 1980's series and was first broadcast in Japan on October 22, 1980.
This is Astro again. I went with Dr. Elefun back to our own country where he put me in a real school. I started in the third grade in Mr. Daddy Walrus' class. Not everybody liked having a robot for a classmate. One day a boy named Alvin got himself and his friends into terrible trouble at an unfinished amusement park. After that they all thought differently about having a robot for a friend.
Synopsis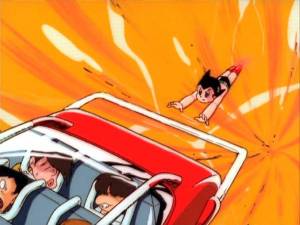 Astro as well as Dr. Elefun go back to Japan, and Elefun decides to put Astro in his friend Daddy Walrus' school. His sudden appearance makes several students dislike him for being a robot, for example Alvin. However, some take a liking to him. During a class election, Astro is presented with the final and deciding vote, however he voted against Alvin, causing him to take a disliking towards him.
Later, Alvin and his friends go off to a theme park which has yet to open; its main feature is a roller-coaster which does not require rails to navigate itself, due to electromagnetic forces. Alvin and friends go several times, and soon the system overheats and also prevents them from going back to the terminal (aka they're trapped). The robot police is unable to stop them. Astro goes to the rescue and once again saves the day.
Trivia
Mistakes